Please keep up the good work on staying safe. We are almost through this crisis. Most practices, though not all, are getting back in production, albeit a little creakily.
So many new rules and requirements in the new normal that practices are not able to move at their pre-pandemic speed.
Safety is the new watchword that everyone, staff and patients both, are struggling to comply to: Don't hug me, don't shake my hand or fist bump, don't sneeze, don't cough, don't come to the practice if you don't feel well, why do you look so weird in those masks, why do I have to wait in the car until you call me in for my appointment, why are you taking my temperature, and so on.
And this is the way it needs to be for a while until this too has come to pass.
However, there is a strong need for most businesses to get back up to full speed rapidly, not only to take care of all the patients of the practice but also to be able to handle the financial aspects of a practice. The answer is not to price gouge the patients by substantially raising your fees, but to improve the efficiency of the practice in all possible ways.
Here are a few things to do:
1. Stagger your schedule so you don't have the mass entrance and exodus of patients into and out of the practice.
2. Longer hours is another alternative – the need for this depends on how many treatment rooms you have and how far apart they are and whether you have associates who can do one shift while you and half the team do the other shift.
3. Ensuring that your front desk staff are very on top of the scheduling of patients, making sure that they know exactly when they are to arrive and keeping the practice running on schedule.
4. Putting emergencies at the end of the day rather than interrupting your day where you're going to get behind and have a stack up of patients in the waiting area or outside.
5. Investing in HEPA filters and other filtration systems in order to quickly change the air in the treatment room for those professions that are required to do so can definitely speed up the whole waiting time between patients.
These are just a few of the ideas that we are working on with our clients and it is making a difference.
Marketing to drive in more business to replace the patients that are not going to be returning due to lack of finances is also something of a consideration.
Another problem area that has arisen is that some practices are experiencing staff not wanting to come back to work and so there is a lot of hiring going to go on because that is basically a resignation.
We have a great deal of experience in growing practices from any stage of a practice's life (from start-up to exit strategy) and have helped practices thrive all through five major recessions in the last 31 years. We would love to be of help to you!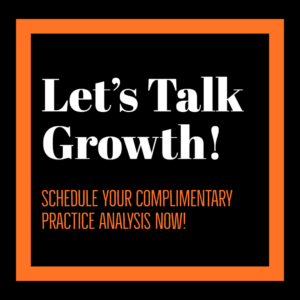 Let's meet and assess what it will take to bring your practice back to full battery & beyond! Pick a time for our FREE Practice Analysis.
 Call us at 416-466-6217 for a FREE Practice Assessment!