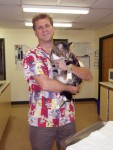 Hillcrest Animal Hospital
613-394-4811
R.R. 4, Trenton, ON
K8V 5P7
A bit less than 2 years ago, I bought my partner out and became the sole owner of a 4-vet practice in South-eastern Ontario. Once it was just me at the helm, responsible for over a dozen employees and staff, I found myself rapidly burning out. The practice was basically steering itself, and I felt that I had very little control over its fate. I was spending more time reacting to problems and trying to solve them than being pro-active and anticipating problems before they arose.
I have been a client at The Art Of Management since April of 2009. I was looking for a management system/consultant that did not simply force my practice into a mold which worked only when the consultants them-selves were present. I wanted a system that gave ME the tools to monitor and control my practice and help it grow. That is what AMI has done for me.
Now I know on a weekly basis how my practice is doing. I can determine how well my associates are performing and how well I am performing myself. More importantly, AMI has given me the tools which have given me the confidence to make a number of significant decisions which will alter the future of my practice.
I can honestly say that I am very glad I made the decision to go with AMI, and that I expect our relationship to continue for many years.
Dr. Michael Steen, Veterinarian
http://amican.com/wp-content/uploads/2016/06/Steen_Micheal-e1369667143297.jpg
150
113
Janice Wheeler
http://amican.com/wp-content/uploads/2016/06/logoAmi.png
Janice Wheeler
2015-09-23 07:52:34
2017-02-06 15:10:54
Dr. Michael Steen