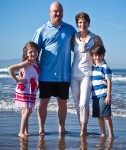 416-221-6621
201-5025 Yonge Street
North York, ON M2N 5P2
About 7 years ago when AMI first contacted me, I had recently opened my office from scratch, and had a 2 year old daughter and an 8 month old baby boy at home. Tired and overwhelmed by the daily grind and demands in my life, AMI's call came with perfect timing. I truly felt the office was running me, not the other way around.
With AMI's help, several factors changed for me which put me back in the driver's seat. AMI was instrumental in helping me deal with my staff issues which were the start to positive change. Their system of managing by statistics was definitely a positive tool which I learned and still use today, whereas before that I was uncomfortable looking at my practice numbers in any meaningful way. Through our weekly consultations, I learned to look at my stats one week at a time which made it easier to assess the immediate needs of the practice. Now, it's the first thing I grab when I see the new stats sheet sitting on my desk. Whether it is a good week or at not so good week, I now have the skills to make changes based on what the numbers are telling me.
I appreciated the fact that AMI does not come into your office to implement a cookie-cutter solution, but rather they trained me as the owner to be a better manager and a smarter business person. We are not taught how to run a successful business in school. AMI simplified this large subject area into bits that are easy to apply on a daily basis.
I am much more confident today about running my practice than in those early days. Thank you AMI. I look forward to working with you as I transition into my new office space later this year.
Dr. Catherine Tallerico, Dentist
http://amican.com/wp-content/uploads/2016/06/tallerico_Cathy-e1369665687229-1.jpg
150
126
Janice Wheeler
http://amican.com/wp-content/uploads/2016/06/logoAmi.png
Janice Wheeler
2012-01-23 05:55:12
2017-02-06 16:47:52
Dr. Catherine Tallerico